The Santa Fe County 4-H program provides a creative a supportive environment in which culturally diverse youth and adults can reach their full potential. Our local county program works to develop life skills to help young people become self-directed, productive citizens. We also work to empower adult volunteers who multiply the efforts of our local county Extension staff.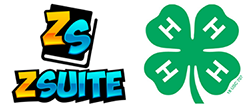 Across the country 4-H'ers are making a difference in their communities because that is what 4-H is all about. In 1912 demonstration trains sent out throughout the state to promote interests in Boys' and Girls' club Work. The train featured specialists who demonstrated new developments from New Mexico A & M (now New Mexico State University) that would improve animal and plant production as well as home economics skills throughout rural New Mexico. The train stopped at various sites, people came on board and talks were given. If there was sufficient interest shown, club work was initiated under the direction of the county school superintendent. Two years later, county agents were appointed due to funding from the Smith-Lever Act, and 4-H work became an integral and very visible part of the county Cooperative Extension program.

Like us on Facebook!
Local 4-H Programs
Santa Fe County Forms