Cooperative Extension Services
Santa Fe County
Helping Put Knowledge to Work
Cooperative Extension Service provides the people of New Mexico with practical, research-based knowledge and programs to improve their quality of life.
The Santa Fe County Extension Service is dedicated to meeting the needs of a diverse population. Rich in history and culture, Santa Fe County is home to New Mexico's capital city. Our agents are available for programming in the following areas.
We specialize in:
Agriculture programs
Horticulture | Xeriscape Landscaping
Home Economics | ICan
4-H programs
Events Happening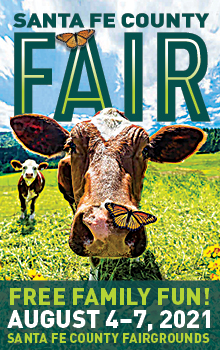 A note from Monica Lury, Santa Fe County Fairboard Chairperson
The 2021 Santa Fe County Fair has officially wrapped up, and I want to say a big thank you to everyone who was involved in the event. The Fair would not be the amazing event that it is without all of you-so thank you for your hard work, dedication, and commitment. I hope you all felt the sense of community and support that we have for one another, as well as the potential and hope we can see for the future especially with our youth. As we close the chapter to the 2021 Santa Fe County Fair, I look forward to working with you all through out the year to support the 2022 Santa Fe County Fair and make it an even better event!
Santa Fe County Extension
3229 Rodeo Road
Santa Fe, NM 87507
Phone: 505-471-4711
Fax: 505-471-6076
Email: santafe@nmsu.edu

---
Brochure in
English & Spanish
#discoverNMSUextension

Have a favorite NMSU Extension program or story? Share with us how NMSU Extension has impacted your life.
---